FAQs
​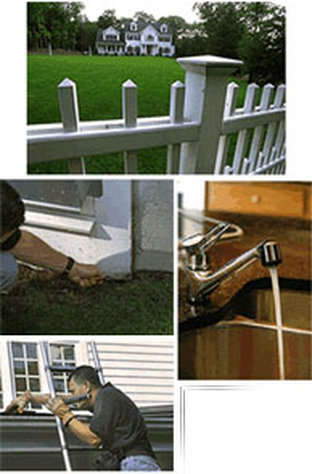 What is your background?
I got into this profession after 10+ years in the building/renovation business. Many home inspectors start that way.
​
How many home inspections have you done?
I've been a professional home inspector since 1980. A fair estimate would be 200 inspections a year. As of the end of 2016, I've personally completed over 7,500 inspections.
Are you licensed?
I have been licensed in Massachusetts (#288) and Connecticut (#HOI.270) since 2001, which is the year each state implemented licensing. I attained my New Hampshire licensure (#144) in 2009, when licensing was first implemented there. I have been licensed in Vermont since June of 2016 (#143.0122999).
Are all licensed inspectors the same?
Currently, license applicants must pass a written exam, but initially licenses were "grandfathered," which meant that licenses were granted to any applicants who had performed at least 125 fee-paid inspections within 24 months prior to May 31. 2001. This also meant that applicants who did not belong to a creditable professional home inspection organization were licensed without any form of written testing or evaluation.
Are you a member of a professional home inspector organization?
I have been a certified Member of the
American Society of Home Inspectors
(ASHI) since 1986. ASHI is the largest and oldest organization for professional home inspectors. Members must pass two written exams and complete 250 fee-paid inspections, and their reports must comply with a strict Standards of Practice. Members must also adhere to a Code of Ethics and must obtain 20 education credits per year. In my local chapter,
ASHI New England
, I served in the elected offices of Secretary, Treasurer, Vice-President, and President. I also served on the chapter Board of Directors as Immediate Past President and as Senior Representative to the Council of Representatives of ASHI (national), where I was elected Alternate Speaker of the Council. I am also a charter member of the
Historic Building Inspectors Association
.
Do you have any affiliation with real estate agents?
No. I am not concerned with the sale of the property. My mission is to make sure that the client knows everything he or she needs to know about the property. I provide the information needed to make a decision. That information explains what the existing conditions are and recommendations for bringing deficiencies to bring the property to a reasonable standard.
How long does your typical home inspection take?
A typical inspection requires roughly 3
–
4 hours to complete, but it is not uncommon for an inspection to take 5 or 6 hours. Some properties can take an entire day, and a few might even require a second day.
Should a buyer/client be present during an inspection?
Yes, if possible. This gives the client an opportunity to see first-hand what I am inspecting.
Should the seller be present during an inspection?
Preferably not. Having one's home scrutinized by a stranger, who could possibly be considered the cause of a failed sale, is an emotional situation for the seller. If a broker is involved, it is a professional courtesy to arrange for the seller to be absent during the inspection. If it is a sale by owner, some ground rules may need to be set to assure that no adversarial confrontations occur.
Do you climb onto the roof?
Yes. However there are certain safety conditions that I consider, and I reserve the right to determine those conditions. Surfaces that are wet or contain snow or ice are obviously conditions that would prevent climbing onto the roofing. Slate, metal, or wood shingles are not walked on due to their generally fragile nature. If I cannot climb onto the roof, I will at least attempt to get to the eaves for a closer observation of the roofing. I will always make a proper determination about the condition of the roofing.
What kind of written report do you provide?
The report is prepared using 3D Inspection System, the most widely used software for home inspections. This software is a proprietary data system developed specifically for home inspectors and can be customized to meet the personal style of the individual professional home inspector. My reports are about 40
–60
pages and contain photos of key deficiencies. With this comprehensive report, the client is able to make a well-informed decision about the property.
How soon will I receive the report?
I send the reports out the day after the inspection by email.
Does your report include photos of visible defects?
Yes. I take photos of certain visible conditions for documentation, and to help the client visualize the nature of the existing condition of the property.
What is your main objective or primary focus of the inspection?
My primary goal and obligation is to obtain the best possible information about the existing condition of the property and its major components and systems, and to gain an understanding of what it will take to bring the property to a reasonable condition.
What additional services do you provide?
For additional fees I provide wood-destroying insect inspections, radon testing, water quality and quantity analysis, lead paint testing, and soil analysis. For no additional charge, I will review a Title 5 septic inspection report (Massachusetts), if available at the home inspection.
Do you recommend or furnish names of contractors who can perform repairs on the property?
No, that would be unethical and a conflict of interest. But I will advise clients on how to find and select a prospective contractor or tradesperson.
How do you structure your fees?
The fee takes into account the size, age, and type of the property, the square feet of living space, the estimated time to inspect the property, and the time required for preparing the report.
Are your fees competitive?
I charge a fee that is compatible with the amount of time devoted to the inspection, preparing the report, and my expertise. The value of my fee is reflected in the extent of details provided during the inspection, in the written report, and in the extensive knowledge and experience that I bring to the inspection.
How can I set up an appointment?
You can call me at 800-894-4687 or send me an email at
dan@adventhome.com
; please include the address of the property in any correspondence. Or you can click here to
REQUEST AN INSPECTION
.